Formative Design provides a product design and development service with an emphasis on innovative solutions.
We have experience in a number of markets including:
Consumer Products

-

Split system air-conditioning units, Cutlery, kitchenware, computer housings, knives...

Automotive

-

Underbody components, Plastic pedals, trim

Medical Devices

- Orthopaedic implants and instrumentation, Patient cooling devices.
By combining core skills and over 20 years experience in Industrial Design and Mechanical Engineering we are able to devise and develop products that exceed the users requirements and perform technically.
We have competitive hourly rates. From a mornings work generating concepts to full project management. Please phone for a free consultation with an experienced and creative product design consultant.
We use Siemens NX 8.5 and Solidworks CAD software.


Gary Fenton - Director
We have recently invested in a Form 3 3D printer. Let us know if you have any printing requirements.
Working on a number of projects with one of the UK's most innovative surgeons, Derek McMinn.
Working with Orthomed on another innovative product, see information on their website here.
See the updated animations page here.
Just completed the surgical technique video for the MMP Orthofoam wedge system. Click below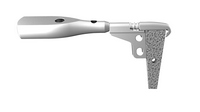 Orthomed launch an innovative new implant for dogs that drastically reduces operation time.
See more here
WOW!! The design looks amazing - i am so pleased with it!! Thank you for all the hard work you have done with the project. I am very pleased with the result and excited about its future.
Dominic G, Private Inventor.
"We knew what we wanted, but did not know how to get there. Formative Design came to our rescue with innovative ideas and options which we could not have conceived. Once we chose the preferred option, Formative Design developed the product right through to production stage. We are delighted with the service and would have no hesitation in using them again and recommending them to
others."
Mike Serridge, MD S+B UK Limited